 Product Name
Tea Light
Item Code:
AHE 20116559

Product Name
Lantern
Item Code:
AHE 20116569

Product Name
Tea Light
Item Code:
AHE 20116570
Welcome to Ahmed Handicrafts Exports
Ahmed Handicraft Exports, a 9 years old organization, enjoys a distinct reputation in the field of handicrafts. Established in the year 2001, the company is located in a city called 'The Brass City - Petal Nagri. As the name suggests, the city from the very past is engaged in the business of making Metal Art wares , Wooden Handicrafts , Home Furnishings Item like Curtains Pillow.
We, at Ahmed Handicraft Exports, are engaged in preserving this tradition and adding new dimensions to this existing trade. We export all these to almost every nook & corner of the world.
Ahmed Handicraft Exports of India has held high the flag of Indian handicrafts with its exotic brass handicrafts, wholesale garden accessories, garden ornaments, copper handicrafts, iron handicrafts, aluminum handicrafts, wood handicrafts and glass handicrafts. At Ahmed Handicraft Exports, we design and fabricate beautiful art-wares having aesthetic sense. read more>>
Our Product Range

News & Announcements
12 Feb 2011
Visit Ahmed Handicrafts at trade fair at stall # 123 noida, india
10 Feb 2011
Ahmed Handicrafts has announced the launch of its new, advanced designer jewelery product line, which uses high quality silver and gold polishing, We are now accepting orders for our new product line
Featured Product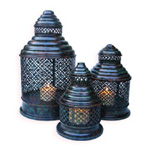 Product Name
Heritage Style Lantern
Product Code:
AH0057854